Jocelyn Throop
Director, Production and Business Administration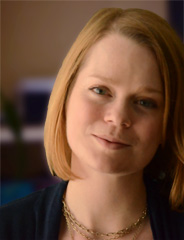 Jocelyn Throop is responsible for preparing and managing private and public funding applications and agreements and ensuring that all production, broadcast and distribution contract milestones are met.
Prior to joining Apartment 11 in 2013, Jocelyn worked at Faulkner Productions for ten years and held positions of increasing responsibility, latterly as Associate Producer.  In this capacity she coordinated and oversaw the development, production, marketing and distribution of various independent films including the family feature Alabama Moon, based on the best-selling novel by Watt Key and starring John Goodman.
Jocelyn has worked on productions at Cité-Amérique and Muse Entertainment. She began her film and television career in 1997 at 20/20 Casting in London, England.
Jocelyn holds a Bachelor of Arts degree in History from the University of Kings College.