Braindamadj'd… Take II Wins Prestigious Peabody Award
Montreal – Apartment 11 Productions' documentary film Braindamadj'd… Take II, directed by Paul Nadler and produced by Jonathan Finkelstein, has just won the prestigious George Foster Peabody Award.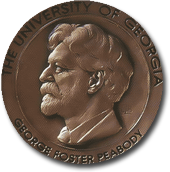 The documentary, originally broadcast in 2006 on CBC Newsworld's The Lens, is one of only three Canadian winners this year. Other recipients include: 60 Minutes, Spike Lee's When the Levee Broke for HBO, and Ric Burns' American Masters: Andy Warhol: A Documentary Film, which aired on PBS. According to the Peabody committee: « No documentary was more original than Braindamadj'd…Take II, Canadian television director Paul Nadler's boldly stylized account of his own remarkable recovery from a serious brain injury. »
The film has screened widely throughout the world, and has already received two Gemini Awards and the Grand Prix Japan Prize.
Braindamadj'd… Take II documents Paul Nadler's excruciating road to recovery. In 1994, at age 30, Nadler, a creative force in the Montreal television industry, suffered Traumatic Brain Injury (TBI) in a car accident. Found naked and on the verge of death on a roadside in Egypt, he had little hope of survival, let alone recovery of speech or movement. Despite the negative prognoses, Nadler fought and regained his movement, his speech, and his artistic flair – not only confounding his doctors, but also creating « a wildly inventive film about his experience. »
Braindamadj'd… Take II is produced by Jonathan Finkelstein of Apartment 11 Productions in association with CBC Newsworld. Commissioning editor of The Lens is Andrew Johnson. The film was produced in association with CBC Newsworld and with the participation of RDI and the Knowledge Network. It was made possible with support from the Canadian Television Fund: Equity Investment and License Fee Programs created by the Government of Canada and the Canadian Cable Industry, Quebec Tax Credit Program administered by SODEC and the Canadian film or Video Production Tax Credit. The documentary is represented internationally by Smiley Film Distribution. http://www.smileyfilmdistribution.com/
The Peabody Awards began in 1941, and are administered by the Grady College of Journalism and Mass Communication at the University of Georgia, to celebrate meritorious achievement by radio and television networks, stations, producing organizations, cable television organizations, and individuals. Selection is made by the Peabody Board following review by special screening committees of faculty, students and staff.