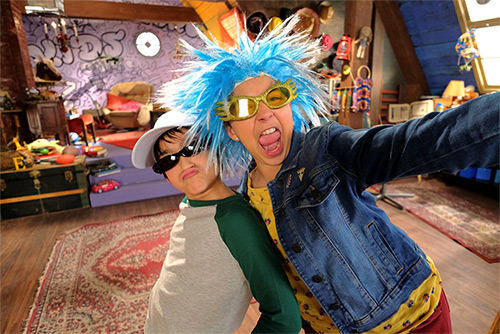 The Wacky Word Show
Educational Series
6-9 year-olds
13 x 30' episodes
The Wacky Word Show features skits, songs, animations, special guests and real-kid competitions in a zany variety show that inspires kids to
have fun with words and language.
Hosts Zoey and Lukas are best friends who use their big imaginations to come up with a new theme for every episode. They also call on real
kids to answer fun questions or tell jokes.
Things get super wacky when Lukas programs Booboo Bot, a small homemade robot, to speak idiomatic English or to answer questions as his
virtual assistant. Things always go hilariously wrong.
On The Wacky Word Show, fun is number one!
Interstellar Ella
CGI Animated Series
4-6 year-olds
52 x 11' episodes
Distributed by Aardman Animations
In the distant future, a seven-year-old girl named Ella is gleefully testing her limits in a star-filled playground called 'The Milky Way.' Out among the stars, every day brings adventures, discoveries and challenges – today they're searching for Slippy's lost kite in the ever-shifting iceforest of the Kuiper Belt; tomorrow they will discover a black hole the size of a lake that will 'spaghettify' Madhu's favourite toy; the next day, Ella will be trying to figure out how to make their favourite game even more fun with the help of a supernova.
Interstellar Ella is 3D CGI animated space stories for the small screen, aimed at four to six-year-olds, but fun for children of all ages. Each elevenminute episode is packed with action, comedy and interstellar adventure as Ella and her friends discover amazing things about comets, planets and all the incredible stuff that makes up the cosmos.