Prank Patrol Australia Nominated for A Prestigious Logie Award!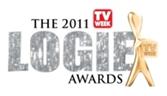 Breaking news from across the world! Prank Patrol Australia has been nominated for a Logie Award in the "Most Outstanding Children's Program" category. The TV Week Logie Awards are the Australian television industry awards (Australia's equivalent to the Emmy and Gemini Awards). The awards ceremony takes place in Melbourne on the 1st of May, 2011. Congratulations to activeTV, producers of the Australian format of Apartment 11's Prank Patrol.
The second season of Prank Patrol Australia currently airs on ABC 3.