Prank Patrol Wins 2007 Gemini Award for Best Make-up
Apartment 11 Productions is pleased to announce that Prank Patrol, its hit children's series, has won a Gemini Award for Best Achievement in Make-up.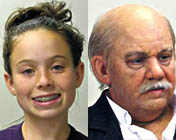 This win represents no small feat for the show or talented make-up artist CJ Goldman, since he was given the difficult task of transforming a 12-year old girl into a 65-year old man for a Prank Patrol episode entitled "The Office Boss".
In the episode, prankster Emily sets off to prank her babysitter Meighan. She calls in the Prank Patrol to transform her into intimidating business mogul Kenneth Filson. Her plan is to set Meighan up with a job at "Mr. Filson's" office and then show up and have some fun bossing her around. Of course this means Emily is going to need a major makeover so Andy (host), takes her to meet CJ, a special effects master, who transforms her into a 65 year old man.
Prank Patrol is a series that offers lucky viewers the chance to create, build and execute a big-time prank! All they have to do is call in the Prank Patrol! In their customized "SpyVan", our fun-loving host Andy and two prank-loving Ninja sidekicks take the Prankster to the skilled people who can help them put together and pull off the prank of a lifetime!
Prank Patrol is produced by Apartment 11 Productions in association with YTV and with the participation of the Shaw Rocket Fund.