Apartment 11 Productions options popular children's book, Olga, for upcoming animation series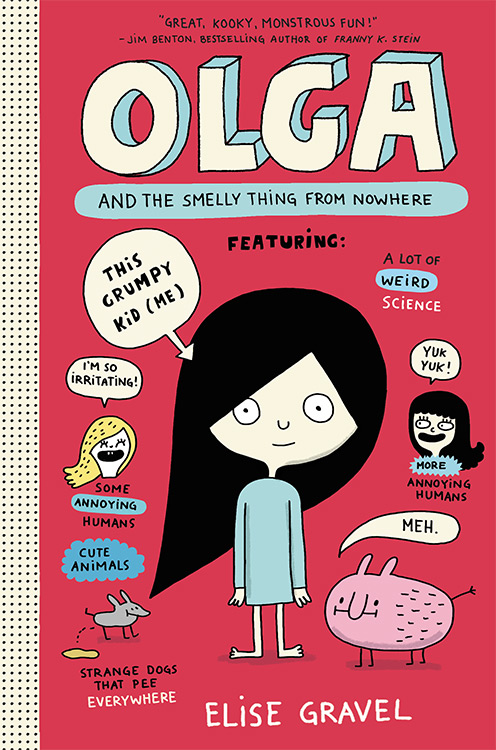 Montreal, Quebec (Feb. 5, 2021) – Apartment 11 is developing its second animation series after optioning the rights for the popular children's book series, Olga, by Montreal-based author Elise Gravel.
The project brings Olga, a fierce, animal-loving child scientist, to the screen for the first time, allowing school-aged viewers around the world to follow her wacky adventures.
"The Olga books are loved by kids all over the world, so it's super exciting to be working with Elise Gravel to bring the observant, independent and very funny Olga to the screen at a time when kids' content has never been more popular," executive producer Jonathan Finkelstein says.
The 26 x 11' animated series follows the action, adventure, suspense, gross stuff and big life changes of a slightly grumpy girl animal scientist who loves animals more than humans, even the ones who stink and pee on your shoe, until she discovers a unique species who may-or-may-not be an alien. It leads Olga to realize that some humans aren't so bad, and it takes a village to raise a Meh.
Elise Gravel welcomes the opportunity to share Olga with viewers: "My fans have been asking for more Olga stories, so I'm thrilled that she's coming to the screen for the first time and can reach a wider audience through our collaboration with Apartment 11," she says.
The project is supported by the CMF-SODEC Predevelopment Program for Television Series Based on Literary Adaptations.
Please click here for images of the Olga book series.
About Apartment 11 Productions Inc.
Founded in 2000 and led by its passionate President, Jonathan Finkelstein, Apartment 11 consistently delivers quality, story-driven ratings successes to its global broadcast partners. The independent, Montreal-based creative hub has produced more
than 300 hours of scripted and non-scripted programming, mostly for children's and youth audiences, including three performance- based series. An elite school for circus artists provides the backdrop for the youth drama series Big Top Academy (52 x 30 minutes, Discovery kids/ TVO/Hulu/Pop UK, in collaboration with Cirque du Soleil), and the new spin-off series Big Top Academy – School's Out Edition (26 X 11 minutes, TVO/Pop UK in collaboration with Cirque du Soleil.) Presently in production is Interstellar Ella (SRC, TVOKids, TFO, Knowledge Network and Ketnet), a new CGI animated series about eight-year-old Ella gleefully testing her limits in a star-filled playground called 'The Milky Way.' Apartment 11 has won a Peabody Award, multiple Japan Prizes, Youth Media Alliance Awards and Gemini/Canadian Screen Awards, a Viewers' Choice Kidscreen Award and has also been nominated for two International Emmy Awards. http://apartment11.tv/downloads/media-kit.pdf.
About Elise Gravel
Elise Gravel was born in Montreal in 1977 and started to draw not long after her birth. In kindergarten, she was popular because she could draw princesses with long, spiral curls. Then in high school, girls asked her to draw their dream guys in their agendas. Elise became very talented at drawing muscles and chest hair, which came in handy later on when she illustrated her book Le Grand Antonio. On the other hand, she's still pretty bad at knowing how to use an agenda properly. Later on, she studied graphic design at CEGEP*, during which she figured out that she wanted to do illustration. After her first book, Catalogue des Gaspilleurs, she wrote and illustrated more than 30 others. One of her books, La clé à molette, won the Governor General's Literary Award in the illustration category, and since then she's become really bigheaded and brag all the time. Elise lives in Montreal with her two daughters, her husband, her cats, and a few spiders. She's currently working on diverse projects for publication in Quebec, English- speaking Canada, and in the United States. Her books have been translated into a dozen languages. She's hoping to live a long life so that she can make many, many more books, because she still has many, many more ideas.
Media contact: Katie Rook | katierook@apartment11.tv | (416)995-7749