Apartment 11's The Wacky Word Show Premieres September 30th on TVOKids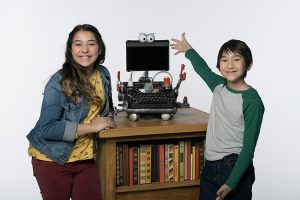 Zoey's back and co-hosting a brand new series on TVOkids with her pal Lukas! Watch The Wacky Word Show, premiering September 30th at 6 PM ET.
The Wacky Word Show features skits, songs, animations, special guests and real-kid competitions in a zany variety show that inspires kids to have fun with words and language. Hosts Zoey and Lukas use their big imaginations to come up with a new theme for every episode. Things get super wacky when Lukas programs Booboo Bot, a small homemade robot, to speak idiomatic English or to answer questions as his virtual assistant. Things always go hilariously wrong.
Apartment 11 will also be launching two interactive online games in partnership with the Toronto-based digital studio, Relish Interactive: Booboo Bot's Brainteasers and Wacky Story World. Drawing upon the show's themes of literacy and communication, the Wacky Word Show's two standalone games focus on learning and wordplay with the series' robot character, Booboo Bot, acting as host and guide.
On The Wacky Word Show, fun is number one!
For TV scheduling information visit: http://tvo.org/schedule.