TVOkids Original Wacky Number Songs from Apartment 11 Productions spotlights learning with math musicals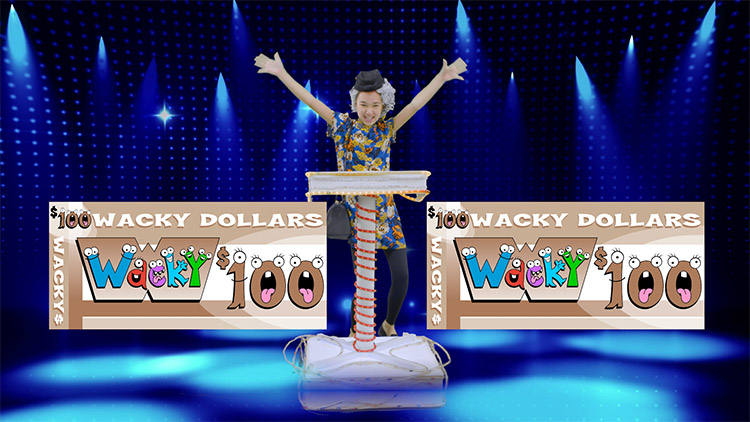 Season two of Wacky Songs series premieres next week, series purchased by ABC Australia and season three getting underway
Montreal, Quebec (July 28, 2021) – After a fun-filled first season expanding the vocabularies of Grade 1-4 students with Wacky Word Songs, the series is back with a whole new round of episodes focusing on math.
Season two, TVOkids Original Wacky Number Songs, premieres on TVOkids.com and the TVOkids YouTube and Roku channels on Aug. 2 and on TVOkids, Aug. 9.
"We all loved how season one made learning fun and harnessed kid-centric silliness for building real-world skills," says Marney Malabar, Director of Kids TV, TVO. "Season two brings that same magic to learning numbers with a catchy tune."
Season two features Big Top Academy's Ava Ro performing zany numbers about numbers that explore math concepts like fractions, probability, quadrilaterals and symmetry. Putting the focus on fun will inspire young viewers to see math throughout their daily lives, from the kitchen to the soccer field.
"With song titles like 'Tally Up!,' 'Gone, Gone Polygon' and 'Attention to Dimension,' children won't be able to resist singing along with Ava and exploring the fascinating world of math," says Mindy Laxer, co-executive producer, Apartment 11.
Produced by Apartment 11 Productions, in association with TVOkids, the popular series has also been purchased by ABC Australia and renewed for a third season.
While audiences deepen their grasp of math concepts, Apartment 11 is prepping production for season three of this TVOkids Original: Wacky Media Songs. This upcoming season will connect children with media literacy skills, featuring songs that explore advertising, the internet and social media. Topics will include clickbait, bias and fake news.
TVOkids Original Wacky Number Songs is also made with the financial participation of the Canada Media Fund, Shaw Rocket Fund, the Canadian Film or Video Production Tax Credit and the Quebec Film and Television Tax Credit.
Episode synopses, trailers, images and logos are available here.
Media contacts:
Katie Rook | katie@katierook.com | (416)995-7749
Sonya William
Manager, Audience Development
TVO
About TVO
Since 1970, TVO has existed to ignite the potential in everyone through the power of learning. Through impactful digital education products, in-depth current affairs, thought-provoking TVO Original documentaries, and award-winning TVOkids content, we prepare Ontarians for success in school and life. TVO's ongoing evolution as a modern digital learning and media organization prepares us to serve Ontarians for generations to come. TVO is funded primarily by the Province of Ontario, and is a registered charity supported by thousands of sponsors and donors. For more information, visit tvo.org and tvokids.com.
 About Apartment 11 Productions Inc.
Founded in 2000 and led by its passionate President, Jonathan Finkelstein, Apartment 11 consistently delivers quality, story-driven ratings successes to its global broadcast partners. The independent, Montreal-based creative hub has produced more than 300 hours of scripted and non-scripted programming, mostly for children's and youth audiences, including three performance-based series. An elite school for circus artists provides the backdrop for the youth drama series Big Top Academy (52 x 30 minutes, Discovery kids/ TVO/Hulu/Pop UK, in collaboration with Cirque du Soleil), and its spin-off Big Top Academy – School's Out Edition (26 X 11 minutes, TVO/Pop UK in collaboration with Cirque du Soleil.) In partnership with TVO Kids, Apartment 11 has also produced educational series, Raven's Quest, Finding Stuff Out, The Wacky Word Show, Look Kool and The Mystery Files.  Presently in production is Interstellar Ella (SRC, TVOKids, TFO, Knowledge Network and Ketnet), a new CGI animated series about eight-year-old Ella gleefully testing her limits in a star-filled playground called 'The Milky Way.' Apartment 11 has won a Peabody Award, multiple Japan Prizes, Youth Media Alliance Awards and Gemini/Canadian Screen Awards, a Viewers' Choice Kidscreen Award and has also been nominated for two International Emmy Awards. http://apartment11.tv/downloads/media-kit.pdf.
For more information, please visit www.apartment11.tv